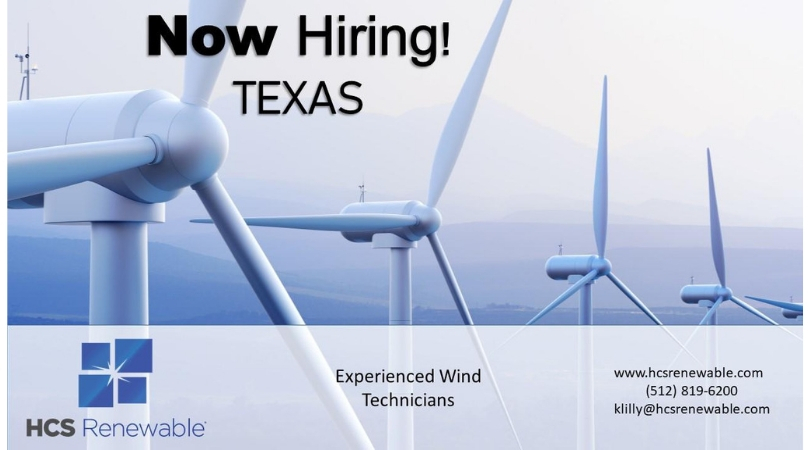 Wind Turbine Technician
Email klilly@hcsrenewable.com for immediate consideration
HCS Renewable Energy is currently hiring for Wind Turbine Technicians in multiple projects in Fort Stockton, TX.

Responsibilities:
Install, Inspect, troubleshoot and repair wind turbines including internal and external components such as programmable controllers, gearboxes, drive, structural and electrical components.
Ability to read and interpret manuals and blueprints.
Perform assembly, commissioning, testing, repair and maintenance on wind turbine generators and related equipment at wind farm.
Conduct and review safety analyses of potential electrical and mechanical hazards in the wind turbines, switch room, and the O&M building.
Requirements:
1 Year minimum experience as a Wind Turbine Technician
NFPA 70E Certification Required
Basic Fire Safety Certification Required
Flexibility to work overtime and rotating shifts as required
Previous experience working with hand tools and power tools
Ability to work in all weather conditions
Not afraid of heights; ability to work on different turbine platforms
Ability to meet attendance schedule with dependability and consistency
Minimum age 18
Provide personal transportation to and from the job site
Proof of Identity and Employment Authorization
Must be able to pass pre-employment 10 panel drug screen

About HCS Renewable:
HCS Renewable Energy is the fastest growing staffing subcontractor within utility solar—focused 100% on utility-scale, ground mount solar projects. We concentrate on the North American Solar Industry with an emphasis on developers; general contractors; subcontractors and facilities managers working on commercial, industrial & institutional renewable energy projects. For more information about HCS Renewable, please visit http://www.hcsrenewable.com.

For immediate consideration, please call 512-819-6200 or email klilly@hcsrenewable.com

HCS Renewable Energy is proud to be an equal opportunity and affirmative action employer regardless of race, color, gender, age, sexual orientation, gender identity, religious beliefs, marital status, genetic information, national origin, disability or protected veteran status..
Apply on Facebook:
https://www.facebook.com/job_opening/2576341117761...